The S20 EVO loved by so many riders has evolved again. Due to its superior agility, the S21's ease of handling and the contact feel when cornering surpass even that of the S20 EVO. The rear tire was developed with Bridgestone's ULTIMAT EYE (TM) technology, while the compound succeeds in generating better traction and while improving abrasion resistance for longer life. This marks the birth of a new premium sports radial, one that brings out the best in machine performance in pursuit of the joy of riding.
Recommended for:
● Riders who mostly enjoy sports riding
● Riders of supersports motorcycles who want a combination of performance in the wet and long life
● Riders who are thinking of starting riding on the racetrack
(1) 3D shape of the groove tip improves tread rigidity and corner grip.

(2) Lug grooves that go over the tire centerline optimize the rigidity of the central part of the tire, leading to better road surface feel and improved agility.

(3) Tire life is improved and slip is controlled by the addition of rib blocks to the central part of the rear tire (ULTIMAT EYE™).

(4) The slick-like alignment of grooves on the shoulder area yields major increases in contact area and heightened corner grip.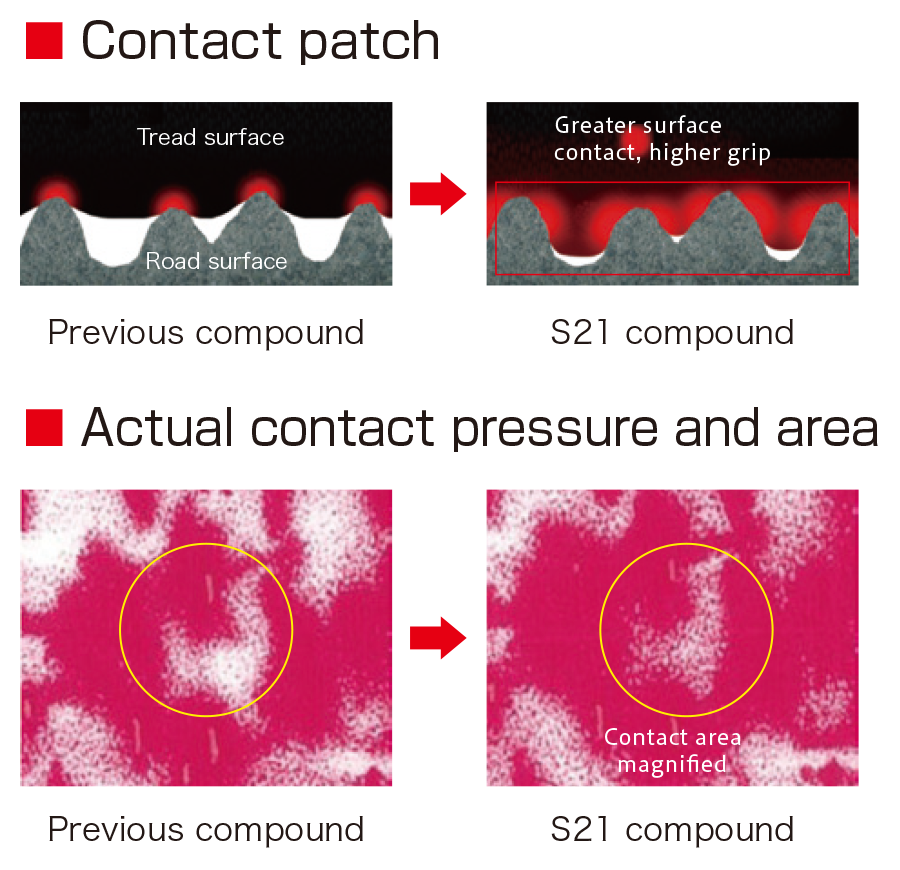 Bridgestone's proprietary tire development technology for measuring and visualizing tire contact surface behavior during actual riding conditions. Previously, tire development consisted of running simulations, building prototypes and using laboratory measurements as well as actual vehicle tests to verify performance.

ULTIMAT EYE™ reproduces highspeed riding conditions in the laboratory that are equivalent to those of an actual vehicle, enabling tire contact surface behavior to be visualized. In addition to the previous actual vehicle tests, this allows high-precision analysis and performance verification with a solid scientific basis. The measurement and analysis equipment can handlespeeds of up to 400km/h and lean angles of up to 60 degrees.